Starting A Career with ECOMAT – How Young Professionals in Bremen Find a Job
Finding a job in the aviation and aerospace industry after graduation – recent graduate Catherine Rau explains how ECOMAT in Bremen helped her launch her professional career. The 25-year-old engineer graduated with a degree in aviation and aerospace technology in July 2022. She lives in Bremen and works at Airbus.
Ms. Rau, what brought you to Bremen?
Rau: I studied aviation and aerospace technology in Brunswick and wanted to take a look at the industry for my masters degree. Via my Professor, I made contact with the German Aerospace Center (DLR) here at ECOMAT. Thanks to the Virtual Product House, I was able to write my Master's thesis with close reference to the industry.
What is the topic of your thesis?
Rau: I ran CFD (Computational Fluid Dynamics) simulations and investigated two models in the high-lift system sector, each of which had different characteristics. Finally I investigated the aerodynamic behaviour of these two models during take-off and landing.
Was that an entirely new field for you?
Rau: I'd already performed a CFD simulation as part of my Bachelor's thesis. I was already familiar with the physical and mathematical principles. However, in my Master's thesis, I went into much greater detail and also undertook the design aspects in the study.
Did you have to get to grips with the subject yourself or did you get help from the DLR team here at ECOMAT?
Rau: I had a mentor here, on-site, who was a specialist on this subject, had used all the programmes themselves and could give me tips. I also had a contact person at Airbus, who is an expert in this area. They assisted me with the methods and programmes. We were able to discuss technical issues together. Being able to look at things from someone else's point of view was really cool. That was an immense help to me.
You started at Airbus right after finishing your Master's degree – was that a smooth transition?
Rau: I thought long and hard about a number of issues. On the one hand, I considered going on to do a doctorate, on the other hand, I was already looking at the jobs market while I was working on my Master's degree. Then an interesting opportunity came up at Airbus and, to cut a long story short, I was accepted for the position I hold now. This meant that, even while working on my Master's, I could be sure I could stay in Bremen and that was, of course, very reassuring.
What do you do at Airbus now?
Rau: I'm a systems engineer in the field of high-lift systems. For example, we're currently working on flaps: Which flap movements are correct? How is it attached? What do we need to do to prevent errors? We're working on the aircraft of the future and I find that very exciting.
Have you always wanted to build aircraft?
Rau: When I was little, I always wanted to be an astronaut, and that dream attracted me towards aviation and space exploration. I was certainly influenced by my parents because my Mother and Father are both engineers. I always enjoyed maths lessons at school and I was well supported in this.
However, I discovered a real passion for the subject at university. I'm absolutely fascinated by technology. Knowing that I'm making a contribution to improving aircraft and making them more climate-friendly is my greatest motivation. And I also like the way of working here, where we work through complex topics as a team, thinking analytically and focussed on finding a solution.
You've been working full-time for 7 months now. When you think back to the first months, what was the biggest challenge you faced?
Rau: I think the biggest challenge is the different way of working. When studying, everyone works pretty much for themselves. This is quite different to my everyday life at work because the topics are complex and we work together to resolve them as a team. Having to approach people proactively and ask for advice, that was the greatest change.
What do you think young engineers need to be successful in the aviation and aerospace technology sector?
Rau: Engineering science graduates bring with them a solutions-oriented way of thinking, and that, of course, is vital. However, openness and the ability to communicate are also important. We all work as a team so everyone has to reach agreements and also allow themselves to be helped, now and then.
Your new job means that you visit the ECOMAT research centre quite frequently?
Rau: ECOMAT is home to what's known as the Airbus Plateau. This is where experts from a wide range of sectors meet once a week in an "open space". We don't have allocated workstations here so, when you arrive in the morning, you simply find a place to work and quickly come into direct contact with people from other disciplines.
And what do you think of this way of working? Is it different from working directly in the Bremen Airbus plant?
Rau: Absolutely. I like this weekly event because it allows people to get out of their departments. But of course, we exchange plenty of views and ideas on the other days as well. However, the great thing about the Plateau is that it means you can look up from your own work and find out what's going on in the other disciplines. There's also a keynote presentation every week, given by colleagues or by people from other areas.
In addition to this sector of industry and your passion for aircraft, was the city itself a decisive factor in your decision to stay here in Bremen after you graduated?
Rau: I really like the size of the city, its city centre, its position on the River Weser and the green spaces. I'm happy here and would also like to stay for the next few years and get to know the city better. Although there's a bit more going on here than in Brunswick, Bremen is still small enough that you can get around everywhere by bicycle, live centrally and still get to work quickly.
Do you have a secret tip about Bremen?
Rau: Even if it's not really a secret tip, I really love being in the Schnoor district. It has a really wonderful atmosphere, especially outside tourist season. Otherwise, I enjoy Bremen's green spaces, like walking by the Werdersee lake or taking part in sports activities. The Park Links der Weser is a real attraction for aircraft enthusiasts because its boundaries are almost right next to the runway. I get a real buzz every time a plane flies overhead.
North Germans have a reputation of being rather reserved. Were you able to make connections quickly?
Rau: When I first moved here, I quite deliberately found a room in a shared flat so I could make connections and get to know new people. This was a really great time for me. But when I started my professional career, it was OK to say that "My student days were over and I'm going to look for a place of my own again". In the meantime, I've established a network of good friends here.
What advice would you give to young people who are thinking about a degree in aviation and aerospace technology and looking for a place to study?
Rau: I think that the size of the city plays a role in every case. I'd say that whether you like small towns or big cities is an entirely personal decision. As, of course, is the university itself. Every university has its key areas and if you're interested in being able to study a subject in depth, the city is of secondary importance.
Obviously, there's no harm in seeing what a city has to offer, apart from the university. Here in Bremen, Airbus and the ArianeGroup are key players in a vigorous aviation and aerospace industry. If you don't want to stay on at university after you graduate, it's obvious you'll look at what's on offer for taking your next step in a particular place.
And a final question: You've just started out on your professional life, but is there a specific goal you'd like to achieve in the next few years?
Rau: First of all, I'd like to establish my career. Airbus is a huge company: actually understanding its complexity is a real challenge. Some time in the future, I'd like to spend some time abroad, having a look at the other company sites and finding out how things are done in different countries and in different cultures.
Catherine Rau, many thanks for talking to us. We wish you every success for the future!
8. September 2023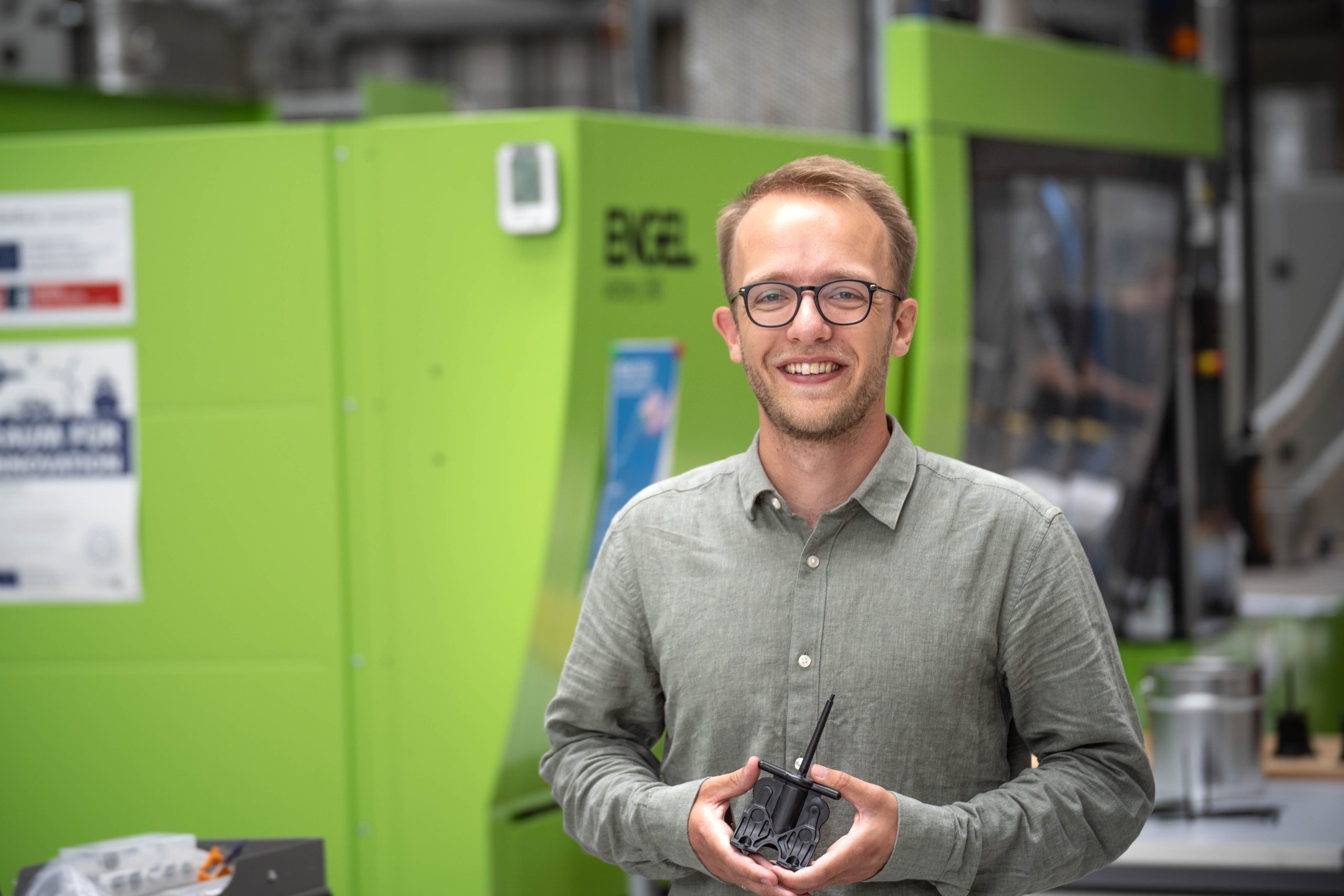 Sustainable aviation: That also translates into environmentally friendly materials in aircraft construction. A joint project in Bremen has now put two new plastics for future Airbus
[…]
6. July 2023
Aircraft will fly on hydrogen in the future. To do so, they will need tanks and pipelines capable of withstanding extreme conditions. Bremen Institute for Applied
[…]
22. June 2023
Both institutions are joining forces to combine their scientific and commercial expertise in the fields of lightweight construction, hydrogen, materials research and virtual product development.